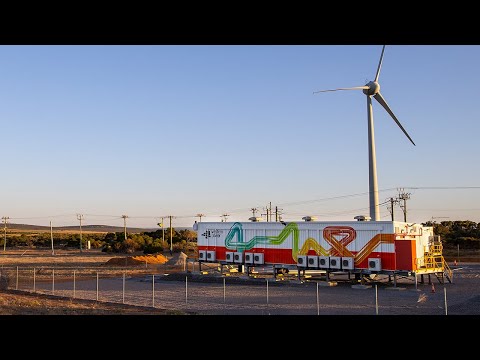 Project background
The Mid West town of Kalbarri is connected to the network via a 140km long rural feeder line from Geraldton which is exposed to the elements. Interference on the line can cause extended outages. 
The Kalbarri microgrid is expected to eliminate 80 percent of outages experienced by the town, and can significantly reduce the length of outages depending on how the power usage being drawn from the microgrid.
Further information
Kalbarri microgrid
The microgrid features a 4.5MWh battery which will be able to supply 5MW of peak capacity with at least 2MWh of energy storage. That's a lot of MW! Additional supply will be provided through renewable energy from residential rooftop solar and a local wind farm. The design allows for future renewable generation sources to be integrated as they become available.
Peaks of energy demand in Kalbarri
will be supplied by the wind farm
will be supplied by rooftop solar
will be supplied by back up battery
What did the Kalbarri locals say?
"The medical centre has their own generator… but again the generator doesn't cover everything. I would love to see a more reliable power supply for Kalbarri."
Christine Holt
Kalbarri Resident
"If my power is down, I can't do anything because I highly rely on electricity to run all my different contracts which range from Department of Transport to Human Services... As far as businesses are concerned, once the EFTPOS machine is down, it opens another whole kettle of fish."
Margi Peet
Kalbarri Community Resource Centre
"I think the impact will be fabulous and in fact it's very, very important that Kalbarri regains its reputation as one of the premium holiday spots in tourism in Western Australia."
Shane Love
Member for Moore
"Batteries will only last so long but I think it will cover a lot of the outages. Especially when it's got support from wind and hopefully some sun also."
Daryl Brown
Western Power
"People want the power on all the time. They want to turn the switch on and the power is on. Great stuff, great initiative, great way for the future."
John Simpson
Western Power
"Businesses will just be happier, yeah people will be happier. I think it's a good relationship that they've listened and are working hard to do something about it."
Tracey Grosvenor
Kalbarri Visitor Centre
Get the latest project info and technology news
Stay up to date with all the new projects, trials and technologies that are connecting everyone in the community to an exciting energy future.