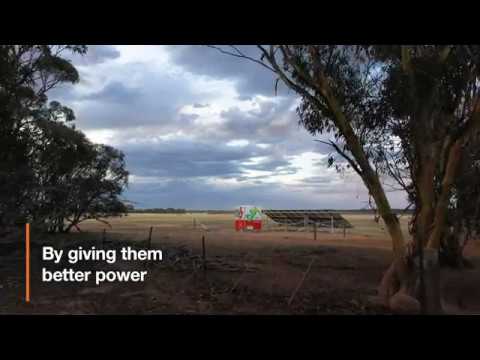 Smart off-grid power solutions for regional WA
Stand-alone power systems are redefining how we deliver power to our remote customers.
As WA is home to one of the largest isolated energy networks in the world, delivering electricity across such a vast network can be challenging. Some customers rely on long stretches of powerlines which can easily be affected by environmental factors - wind, rain, vegetation contact and lightning - so power isn't always reliable and maintaining these lines can be costly.
But stand-alone power systems, or SPS for short, are changing all that.
How does a stand-alone power system work?
As the name suggests, stand-alone power systems are off-grid systems that operate independently from the main electricity network. Each SPS consists of a renewable energy supply such as solar panels, battery energy storage system and, where necessary, a backup generator. This means they are completely self-sufficient power units.
Energy is generated through the solar panels, providing power to the property and keeping the unit's battery charged for when the sun isn't shining. The generator kicks in when needed to keep energy flowing. Watch the video to see SPS in action.
What are the benefits of stand-alone power systems?
More reliable power – instead of relying on power from long powerlines, SPS provides locally generated, and ultimately more reliable and better quality power to rural customers.
Renewable power source – solar panels are the main energy source and any unused solar power is stored in the battery.
Improved safety – they safer than poles and wires in remote areas.
Reduction in electricity costs – the battery and backup generator keeping power flowing when the sun isn't shining, reducing any need for electricity from the grid.
Lower maintenance costs – SPS allow for the removal of power poles and powerlines which reduces network maintenance costs.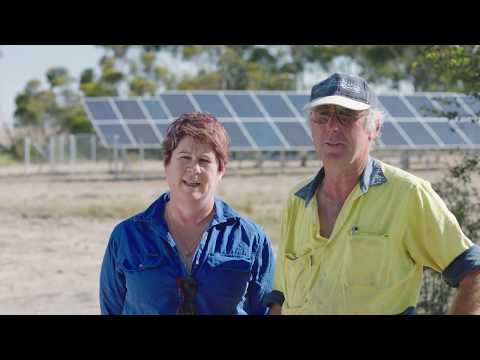 When did we start installing SPS across WA?
In 2016, we launched a trial at six farming properties in the Great Southern. During the three-year trial, more than 200 hours of outages were avoided.
The trial's success led to the roll out of an additional 52 units in 2020 and an expected 88 in 2021/22 – but it doesn't end there.
Our modelling predicts more than 6000 units being deployed over the coming decades.  
Watch the video to find out about the SPS trial.
Why are SPS an ideal energy solution for WA?
With such a vast and isolated network, off-grid systems like the SPS are ideal solutions for remote areas.
But there's more to it than just being a self-sufficient power unit.
Over the last five years, they have transformed power in regional areas. And with a decentralised and decarbonised energy future ahead of us, SPS are going to be a major player.
WA is the perfect place for SPS

Why is SPS a game-changer?

The future for SPS is now. Discover why (and how) SPS will be a major player in WA's energy future. 
What do customers think about SPS?
For cattle farmer Ken Schlueter (pictured), and wheat and sheep farmer, Tania Willmott, life on farm has been tricky without reliable power.
"When we get a bit of drizzle, then the power can go out for at least a day," said Tania.
Ken and Tania, both located in the Great Southern, experienced power reliability issues due to the long powerlines feeding their properties.
But when they received an SPS, they said a cheery 'goodbye' to power outages.
The case of the curious cows

Of all the things that could potentially disrupt power supply to Ken Schlueter's farm, cows were a new one. Here's what happened.

3 day outage? Not anymore!

Three day power outages were a feature of life on Tania's farm. But with 3 SPS on her property, farm life is going to change dramatically.
Here's what our SPS customers said...
"There's 42km of poles and wires running to that transformer and we're hoping they will be able to get rid of them as they won't be needed. We'd be really pleased about that as they are a bushfire risk and a bit of a pain when you are trying to crop around poles..."
Romina Nicoletti
Bonnie Rock
"Buying a generator would have cost us around $10,000, so the timing for getting SPS was good as it saves us on that cost, as well as giving us more reliable power."
Kelvin & Lara Kent
Bodallin
"As well as giving us better power supply, it would reduce our bushfire risk as the poles and wires in the area won't need to be used."
Barry Heydenrych
Boxwood Hill
"I knew about the Ravensthorpe trial and thought it sounded great, so I'd been hoping it would come here. That unit will be enough for the house, given I've even got a wood-fired hot water system."
Ian McKenna
Tardun
"As well as not having to tidy up around the poles, we don't need to touch the SPS units. Western Power even come out to check and fill up the back-up generator for us, so we don't need to touch anything."
Tania Willmott
Tambellup
FAQs
What is a stand-alone power system or 'SPS'?

How does an SPS work?

Who is eligible for SPS?

What are the benefits of SPS?
Stand-alone power systems (SPS) are an exciting new way we're improving power reliability for regional customers. SPS works independently of the main electricity grid to store and deliver power to households and small businesses. It uses renewable energy such as solar photovoltaic (PV) panels, battery storage, inverter(s) and where required, a backup diesel generator. We look after the installation of all SPS and all ongoing maintenance.
A stand-alone power system, or SPS, is a self-sufficient power unit. Energy is generated through solar panels providing power to the property and keeping the unit's batteries charged for when the sun isn't shining. A backup generator also kicks in when needed to keep energy flowing. The unit operates independently of the main electricity grid to store and deliver reliable power to a household or business.
We review and determine which customers will be moved over to SPS.
Customers located across the Mid-West, Wheatbelt, South-West and Great Southern regions of WA can benefit from SPS.
These areas of the network have been identified as a significant challenge for operating and maintaining the network for customers. SPS customers are selected based on:
single or small groups of customers located on the edge of the grid, which are due for network asset replacement
the cost of replacing network assets compared with providing SPS to these properties
customer loads
network topography
maintenance... Read more
For regional customers located in areas with powerlines that stretch over long distances, having SPS means:
Improved power reliability and quality: Customers can expect significantly less power outages.
Better value: It's cheaper to install and run SPS in some regional areas than it is to replace and maintain hundreds of kms of powerlines.
Flexibility: SPS units can be adapted to suit a customer's changing energy needs.
Lowers bushfire risks: Regional areas are subject to intense bushfires and SPS helps reduce the risk.
Decrease in land access:Our footprint, in most cases, will be reduced from tens of ... Read more
View all FAQs
Get the latest project info and technology news
Stay up to date with all the new projects, trials and technologies that are connecting everyone in the community to an exciting energy future.