Stand-alone power systems: Smart off-grid solutions
We'd like to think everyone, regardless of where they live, should have access to a reliable electricity supply.
Some of the more remote areas in Western Australia rely on our traditional infrastructure to power their homes. But the long stretches of powerlines servicing these properties can easily be affected by environmental factors such as wind, rain, vegetation and lightning. Reliability therefore, isn't great and maintaining these powerlines is a costly exercise.
We're tackling these issues head on by finding better ways to deliver this essential service, which supports our current infrastructure. They're called stand-alone power systems, or SPS for short.
SPS: giving rural customers better power
As the name suggests, these off-grid power systems operate independently from the main electricity network.
Each SPS consists of a renewable energy supply such as solar panels, battery storage, an inverter and a backup generator, which supplies electricity to a single property.
The system is sized to match the power use of the property to ensure it is fit for purpose.
WA - the perfect place for SPS

With the size and scale of our network, the innovative stand-alone power system technology is ideal for WA. In fact, there may be no other place in the world as well suited to it.

SPS is a regional game-changer

It's an exciting time in energy with more renewables and new tech coming onto the grid, including SPS. Margot Hammond explains how SPS is giving rural customers better power.

 
The success of the SPS trial
We've been successfully trialling new technology with six farming properties in the Great Southern, which could one day replace the need for power lines in regional and remote areas.
The families who took part in the initial one-year trial will continue living off the grid for a further three years. The extension of this trial will allow us to continue monitoring the reliability of the off-grid power supply and our customer's experience.
One of the farming properties that took part in the trial is owned by Ros and Berney Giles, pictured here.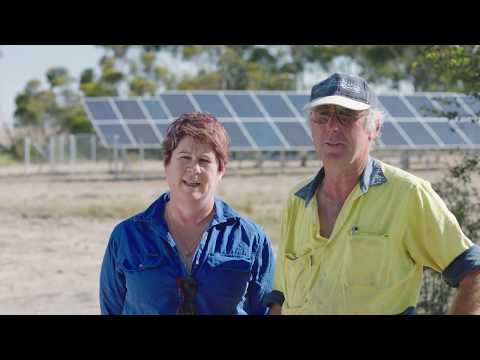 Improving power reliability for regional WA
52% of our overhead distribution network serves only 3% of our customers. Considering this, we can already see that providing regional and remote customers with off grid power systems can make a positive impact on our network resources and deliver improved power reliability.
Based on the success of the SPS trial in the Great Southern, we have launched a project to roll-out more of these systems (SPS Round 1) focusing on a much larger deployment to other regional areas in WA. Fifty-two properties will be going off the grid in an effort to demonstrate SPS deployment on-scale.
Watch the video to learn more about the trial and how it has improved power reliability for rural customers.
Rolling out more SPS with Round 1
Fifty per cent of the overhead distribution network currently services less than three per cent of customers. This means that power supply to customers at the end of long stretches of powerlines can be unreliable - powerlines are at the mercy of wind, rain, vegetation and bushfires.
The trial exceeded expectations by significantly improving power reliability and quality for customers. As a result, 52 more SPS units are being rolled out across rural WA as part of Round 1.  
The roll-out of these units will provide better power reliability to more WA customers, with an additional 100 due to be installed by the end of 2021.