A new era in regional power supplies  
In 2016, six families located in the State's Great Southern region signed up to receive their energy in a new way, harnessing technology not previously used on our network. 
The stand-alone power systems (SPS) trial involved installing units at six farms in the towns of Ravensthorpe, West River, Lake King and Ongerup. The initial 12-month trial used stand-alone power systems that combined solar panels, battery and a back-up generator.
The trial measured the reliability of power supply, our customers' experience using the new technology , the amount of solar generation and impact on the grid.
The results have been overwhelmingly positive with the customers continuing to receive their energy through SPS. 
3 in a row: Great Southern trial proves SPS great for country WA

With more than 200 hours of power outages saved, SPS is transforming power reliability for rural WA.

Stand-alone power brings opportunities for WA companies

Meet some of our SPS trial participants, Bernie and Ros and hear what they thought of their SPS. 
The numbers
See how the SPS has transformed power reliability and quality for the Ravensthorpe residents...
Power interruptions saved over 3 years
Outages avoided per year
Power generated for the SPS came from solar
Customer satisfaction went from less than 6/10 pre-trial, to 9/10 post-trial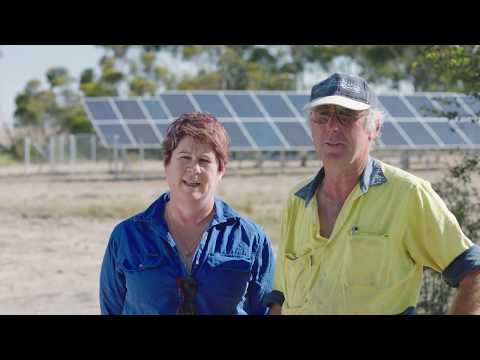 Results of the trial
The 2016 SPS Trial demonstrated that SPS can provide a reliable and safe supply of power to eligible regional customers in WA.
In the first three years, trial participants:
avoided more than 200 hours of power outages
avoided an average 71 hours of outages a year
had more than 90 per cent of their power generated from the SPS solar panels
satisfaction with their power supply increased from 6/10 pre-trial to more than 9/10 with SPS in place.
Watch the video to find out more...
What did the locals have to say?
"We were hopeful that it would work well. We thought we would give it a go and yeah, it's worked really well."
Aimee and Owen Graham
Ravensthorpe
"We haven't had an outage for...well, since we have been on [SPS]"
Tom and Simon Capper
Ravensthorpe
"There's been 2 or 3 outages on the line that we've heard about, but we didn't know about it because we don't have them here."
Tom and Simon Capper
Ravensthorpe
"It was time for that type of innovation. Batteries are getting so good and I think the cost is going to start coming down."
Ros and Berney Giles
Ravensthorpe
"I think it's time we start to move that way and I think it's quite an exciting time, in particular, for solar."
Ros and Berney Giles
Ravensthorpe
"A full crew did it, didn't have to do anything for them. All self-sufficient [and] kept out of your way."
Tom and Simon Capper
Ravensthorpe
Find out more about the benefits of SPS and what it means for WA customers...
Since the trial started in 2016, the stand-alone power system is now a permanent feature on the participants properties.
One of the trial participants, Ros Giles (pictured), says power outages have reduced significantly and are now considered "very occasional quick hiccups". Ros and her husband, Berney, are delighted they said yes to the trial - "we've forgotten what power outages are."
The success of the trial has led to another 52 SPS units being rolled out as part of Round 1. Given the size and scale of our network the SPS technology is well suited to WA. In fact, it is perfectly suited.
And on to Round 1
The success of the 2016 trial has led to the roll-out of more SPS across WA. This is part of Round 1, where 52 SPS units will be installed and commissioned in regional WA. These 52 locations have been selected for SPS as they are situated on long regionally located powerlines that are due for significant renewal.
Many of the customers recruited for Round 1 have different drivers for opting in to the project, such as existing poor reliability and power quality that should be significantly improved by the SPS; reduced land access requirements and the potential to removal the existing overhead assets from their properties.
Read on to find out more about SPS Round 1...