An innovative energy alternative for regional customers 
SPS Round 1 follows the success of the 2016 Trial where we installed stand-alone power systems at six properties in the Great Southern region.
As part of Round 1, we are extending our deployment of SPS to better understand how the systems can be used at scale in a range of locations across our grid.
Participants can expect greater reliability and power quality of supply, with the long-term aim of removing the aging poles and wires from their property entirely.
Rolling out more SPS across WA
For the roll-out of fifty-two SPS as part of Round 1, various sites were identified that met the required eligibility criteria. These locations are serviced by more than 230km of overhead distribution powerlines - that's four kilometres of powerline per property, all of which needs to be replaced at a significant cost in the coming year.
Participants also come from a more varied energy consumption background, allowing us to deploy a more diverse set of SPS configurations and sizes.
3 day power outage? Not now!

Power outages were a common feature of life on Tania Willmott's farm, near Tambellup. With some power outages lasting up to three (3) days, running the farm could prove a little tricky at times. But that's all about to change, thanks to 3 SPS on the property.

Curious cows and the SPS

Who would have thought that cows could cause power disruptions? Well, the curious cows at Ken Schlueter's farm in Tambellup nearly did just that! But with an SPS to provide better power reliability to the farm, things are looking up for Ken (and the cows!)
The numbers
As part of Round 1, 52 units will be rolled out which will deliver better power reliability for rural and isolated customers. But that's just the start - more SPS locations have been identified over the next 30 years...
of powerline will be replaced by SPS units.
thousands of SPS opportunities identified over the next 30 years
Kangaroos out on the crop
Farmers Romina Nicoletti and Nick Priest use an electric cable (hotwire) to keep the roos out of their crop on their bushland property in Bonnie Rock.
"We run the hotwire right around the two paddocks and it works a treat," says Romina.
But if the power isn't reliably on, this can cause an issue for Romina and her crop. Given the farm is in rural WA, the long powerlines that deliver power to the property are exposed to the elements. "Anything - wind, rain and heat - all cause the power to go out around here."
However Romina and Nick's problem is about to be solved with a stand-alone power system (SPS) which will provide constant and reliable power to the hot-wire. "I'm delighted," says Romina.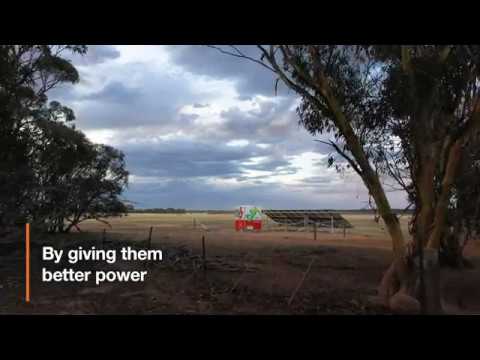 Reliable and renewable power for rural customers
Did you know, one SPS unit can power an entire farming property, making them a game-changer for rural customers.
Combining solar panels with a battery and back-up generator, the SPS units provide locally generated power.
Watch the video to find out more...
What did the locals have to say?
"There's 42km of poles and wires running to that transformer and we're hoping they will be able to get rid of them as they won't be needed. We'd be really pleased about that as they are a bushfire risk and a bit of a pain when you are trying to crop around poles..."
Romina Nicoletti
Bonnie Rock
"Buying a generator would have cost us around $10,000, so the timing for getting SPS was good as it saves us on that cost, as well as giving us more reliable power."
Kelvin & Lara Kent
Bodallin
"As well as giving us better power supply, it would reduce our bushfire risk as the poles and wires in the area won't need to be used."
Barry Heydenrych
Boxwood Hill
"I knew about the Ravensthorpe trial and thought it sounded great, so I'd been hoping it would come here. That unit will be enough for the house, given I've even got a wood-fired hot water system."
Ian McKenna
Tardun
"As well as not having to tidy up around the poles, we don't need to touch the SPS units. Western Power even come out to check and fill up the back-up generator for us, so we don't need to touch anything."
Tania Willmott
Tambellup
Freezers, food and the farm
It takes less than 24 hours for a freezer half full of food to defrost.
So if your property sits at the end of a long spur line, where power outages can occur fairly frequently, you can often come home to an unpleasant smelling fridge or freezer. That was the case for Three Springs farmer, Ian McKenna.
So when we approached Ian about installing a stand-alone power system (SPS) on his property, he was delighted.
"I knew about the Ravensthorpe trial and thought it sounded great, so I'd been hoping it would come here".
WA - the perfect place for SPS
With thousands of kilometres of long power lines across WA, SPS is a game changer for energy supply in regional WA.
Why?
With solar panels, a battery and diesel generator back-up, SPS lets rural properties generate their own renewable and reliable energy. It is a safer, more reliable and more economical alternative to replacing poles and wires in many remote and isolated areas.
Our SPS projects have transformed energy supply for our rural customers.