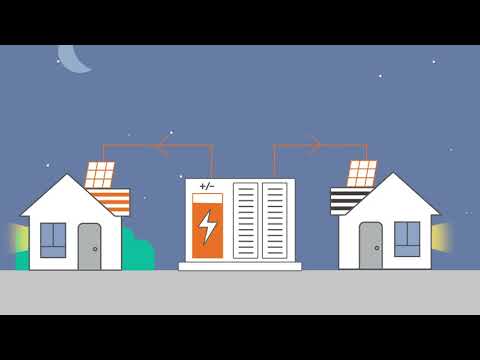 Batteries: An energy storage solution
With the network undergoing an exciting transformation, we're evolving to give customers more choice around how they generate, use and store energy.
One way we're doing this, is with community batteries.
As part of our community battery program, we're rolling out various batteries across Perth metro and regional WA to deliver immediate benefits to the local community and the grid. There are currently 13 community batteries across the network. 
Watch the video to find out how a community battery works.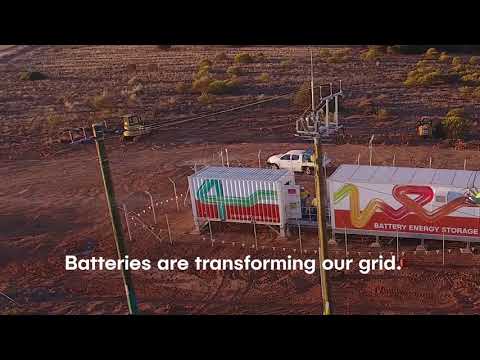 Batteries are transforming the grid
Batteries play a big part in connecting WA to a brighter energy future.
There are currently three types of large-scale energy storage systems being used across our network:
large network batteries that form part of a microgrid, like the one in Perenjori;


Community batteries located in suburbs. They store unused solar power to smooth power flows;


PowerBank batteries. They are a form of community battery that allow customers to store their excess solar energy and use it later when energy demand is high.
How does a community battery work?
Community batteries benefit the entire community, whether you have solar panels or not.
This is because they are placed in areas where the network needs upgrading or adjusting to maintain power reliability and quality. For example, for an older part of the network, there might be too much pressure on a transformer to accept two-way flow of power.
Community batteries solve this problem. They soak up any excess solar power and smooth the flow, improving power reliability and quality to customers.
It's a win-win for customers and the grid. One of the benefits is that it provides opportunities for residents to trial innovative storage solutions, such as the PowerBank - a virtual solar storage option. Participating households feed their excess solar energy into the battery, then draw the energy back to power their homes during peak times.
What makes a community battery so appealing?
Some of the benefits of community batteries include:
they can help balance electricity supply and smooth out the flow of power on the grid
in the case of a microgrid battery like in Perenjori, they can be used as a backup power supply, which will assist when there is a fault on the main electricity network, power disruptions due to severe weather, or as part of an independent microgrid
they can reduce the high cost of upgrading existing power infrastructure, in areas that have high energy demand during peak demand hours
PowerBank batteries can potentially help reduce your electricity bill and generate revenue at the same time
support a higher uptake of renewable energy allowing more homes to install solar panels
Will my suburb get a community battery?
We have rolled out batteries across Perth metro and regional WA. So where will the next one be located?
Well, that's a good question.
The location of a community battery is carefully considered and based on a number of factors. Importantly, a battery needs to be located in an area where there is a significant network need and it needs to provide optimal benefit for the community and the grid.
For example, in suburbs with a lot of rooftop solar, the battery would help soak up the excess solar power.
But it's not always the obvious locations that are in most need of a battery as Revana, our Senior Business Development Analyst, explains...
Driving forward WA's battery industry
Storing solar power in a battery is nothing new. But the application of it at a community level is world leading.
Discover the WA council and the Busselton-based company that have helped us drive battery storage forward in WA.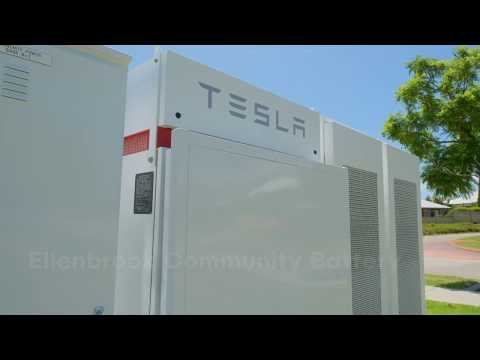 The PowerBank trials
In partnership with Synergy, we started trialling PowerBank batteries in Meadow Springs in 2018. The second trial saw two more PowerBanks installed in Falcon and Ellenbrook. These trials provided participants with an alternative energy storage option to expensive in-home batteries.
PowerBanks use Tesla battery technology made of lithium ion. Entrepreneurs like Elon Musk (Tesla's founder) are leading the way in new lithium ion battery technology and the future of electric vehicles.
In 2021, a third PowerBank trial was announced. It is the largest trial to date and sees nine of our 116kW community batteries transition into PowerBanks.
Read more about our PowerBank projects....
Batteries in the 'burbs
Around 2.2 million Australian households have solar. So for many, the next step is to consider a battery.
There has been increasingly more interest in batteries and electric vehicles - new tech is all the rage. Except that none of it is really new. What is new is the viability of this tech in WA.
Thinking about getting a battery?

If you're thinking about getting a home battery to store your solar, there are a few things you need to know. One of those, is the battery standards. 

Batteries - the sexy tech

Batteries are a win-win for the community and the grid. And this technology is creating new models for how we use the grid. 
Get the latest project info & technology news
Stay up to date with all the new projects, trials and technologies that are connecting everyone in the community to an exciting energy future.